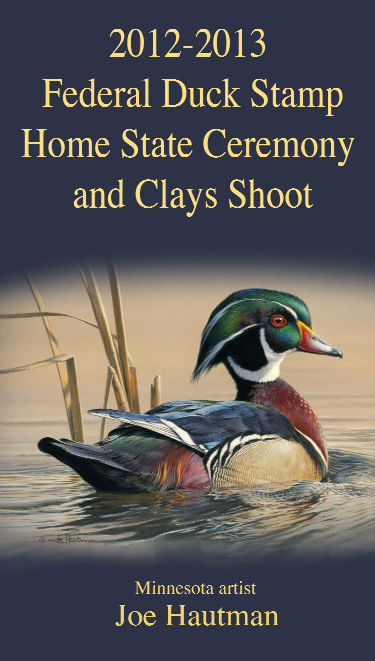 •Official Artist Home State Ceremony
•Sporting Clay Fun Shoot and Games
•Stamp Collector's Event
•Silent Auction including wildlife art, sporting equipment, and more
• OPEN TO THE PUBLIC - Parking and admission are free.
Proceeds from the 2012 Home State event will be dedicated to wetland and grassland restoration on a federal Waterfowl Production Area (WPA), adjacent to Pelican Lake in Wright County, Minnesota. The U.S. Fish and Wildlife Service administer WPA's as part of the National Wildlife Refuge System. WPA's are open to public recreation including hunting, fishing, bird watching, photography, and environmental education. Restored wetlands and grasslands on WPA's provide habitat for an array of wildlife including mallards, bobolinks, western grebes, ring-necked pheasants, and white-tailed deer.

Agenda for the day:
9:00am Shooting Events begin. (Start times vary from 9am to 12pm)
9:00am - 1:00pm Silent auction open
9:00am - 1:00pm Shooting games open
1:00pm - 2:00pm - Lunch served.
1:30pm - Federal Duck Stamp Ceremony
2:00 pm - Joe Hautman signing session - posters and stamps available for purchase..
There are a limited number of openings for the sporting clays fun shoot but all are welcome for other activities including shooting games, Federal Duck Stamp Ceremony, auction, and lunch.
Registration for Shooting Events
Corporate Sponsor - 5 shooters, ammunition, lunch, signage on shooting station, Sponsor print, entry in Sponsor drawing, 5 game tickets and drawings.........$1000
Habitat Restoration Sponsor - 2 shooters, lunch, ammunition, entry in Habitat Sponsor drawing, 2 game tickets and drawings.........$250
Adults - 1 shooter, ammunition, lunch, 1 game ticket and drawings .......$50
(18 and under shooters half-price.)
Game Package - 5 shooting games, lunch, drawings......$75
You can register for the shooting event at the website of the South St. Paul Rod & Gun Club or call 651-455-7249, or by printing out the registration form here and mailing it to the address provided. You may sign up as a group, up to five shooters. Pre-registered shooters will get preferred start times.
Organizing Sponsors: