Duck Stamps and Conservation



The Migratory Bird Hunting and Conservation Stamp (the "Duck Stamp") is an easy, cost-effective way for hunters, birders, environmental educators, and other conservationists to contribute to the protection of natural habitat for the benefit of migratory birds and other wildlife.

98 cents out of every dollar

collected from sales of the Stamp goes directly into a fund set aside specifically for expansion of the federal National Wildlife Refuge system.

The FEDERAL DUCK STAMP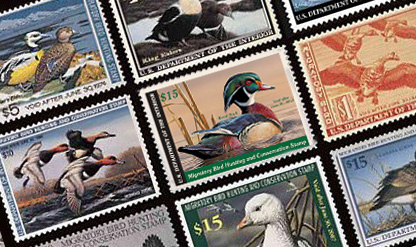 Each year a new duck stamp design is selected by a panel of judges in the only art competition sponsored by the United States government. The winning entry becomes the Department of the Interior's "Migratory Bird Hunting and Conservation Stamp", the emblem of one of the nation's most successful conservation programs. Since its inception in 1934, revenue from federal duck stamp sales has been used to add more than six million acres to the National Wildlife Refuge System. Following a tradition of more than 80 years the winning design is also being made available in the form of a limited edition print, allowing you to proudly display this classic American art form along with your actual federal stamp a beautiful visual statetment of your support of this vital national program.
---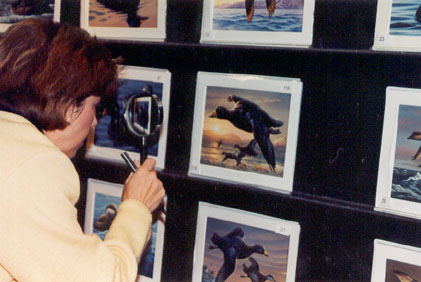 The duck stamp contest is open to citizens of the United States. Entries are submitted according to rigorous specifications regarding eligible species, image size, matting and even the thickness of the painting. On the opening day of the contest a panel of five judges is announced. Each judge is required to have expertise in either art, waterfowl, stamps, or wildlife conservation. The judges view several hundred entries over the course of three days, scoring each on the basis of its artistic merit, anatomical accuracy, and suitability for engraving. The paintings are presented anonymously, and the judges are not allowed to see the votes of the other judges or to discuss the artwork during the contest.

Judges for the 2016-2017 stamp contest were Donald Messersmith, University of Maryland professor emeritus, who taught courses in entomology, ornithology and environmental education; James O'Donnell, museum specialist in the Collections Department of the Smithsonian National Postal Museum; Constance Sanchez, director of the Important Bird Areas Program with the National Audubon Society; and artist and author Jonathan Alderfer, the birding consultant for National Geographic Books.

Duck Stamp History

J.N. "Ding" Darling
designed the very first federal Duck Stamp in 1934. Beginning in 1949, the U.S. Fish and Wildlife Service has sponsored a stamp design contest featuring wildlife artists from across the country.