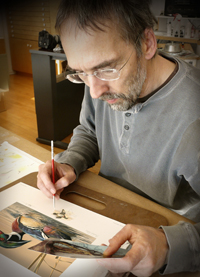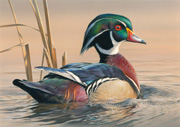 2012-1013 Federal Duck Stamp Design
Joe Hautman's first experience as a professional artist came after he won the Federal Duck Stamp contest in 1991. Although he had never sold a painting, he suddenly found himself visiting President George H. Bush in the Oval office, and receiving honors for his artistic achievements.
From an early age Joe loved to draw and paint, but he soon became fascinated by the sciences as well. His artistic talents took a back seat during his academic career. He studied physics and astronomy at the University of Minnesota, and eventually earned a Ph.D. in Physics from the University of Michigan. In the midst of an active research career, Joe began to enter the Federal Duck Stamp contest as a way to exercise his artistic skills. His surprise victory provided the incentive he needed to return professionally to his first love. He now paints full-time and finds his art career as challenging and fulfilling as his science research. Joe again won the Federal contest for the 2002 and 2008 duck stamps, and recently became a four-time winner with his rendition of a drake wood duck which will be on the 2012 stamp.
Joe lives Plymouth, Minnesota. His work features a variety of North American animals and, inspired by several trips to India, tigers and other Asian wildlife. The well researched detail and accurate naturalistic settings in his paintings are a reflection of his scientific background, as well as his reverence for the wildlife and their habitat.